Perform[cb]'s 2021 Year in Review
We can't believe that the year is almost over! Things have looked different in an almost post-pandemic world, but despite changes, obstacles, and challenges, 2021 has been a special year for Perform[cb]. From learning how to stay present virtually to introducing exciting new company innovations, our team always enjoys reflecting on the year's wins before diving into a new chapter.
Thank You for Making us #1
The Perform[cb] team started 2021 by being voted #1 CPA Network Worldwide in mThink's Blue Book Survey for the fifth consecutive year in a row. As amazing as this is, we are fully aware that we could not have achieved this milestone without our loyal clients, marketers, and partners!
Adweek Elevate: Performance Marketing Summit
Our very own CEO, Erin Cigich, delivered a keynote presentation at Adweek's virtual Performance Marketing event. Erin's presentation highlighted a variety of trends within the performance channel, in addition to the guaranteed ROI marketers can achieve when working with performance partners. During the event, Adweek recognized their inaugural Performance Marketing Awards winners. Our team was excited to have been awarded Campaign of the Year, Emerging Technology for our proprietary tracking platform, in partnership with QuoteWizard. Learn more about this accomplishment in our press release.
Think Bigger… But Make it Virtual!
This year, we hosted a week-long Think Bigger event where our team came together virtually to learn and grow. The theme for the week was "Launch Your Arrow," with a focus on giving our all to the year ahead, inspired by a famous quote from Paulo Coelho. "An arrow can only be shot by pulling it backward. So when life is dragging you back, it means that it's going to launch you into something great."
Throughout the week, our team participated in team-building activities as well as strategy sessions to help set us up for a productive year. Each department was able to break out into groups to spend time looking at their individual and collective goals. We also learned together as a company, hearing insights from our leadership team about our previous year's successes and lessons learned, departmental accomplishments, and a preview of the technology features we were going to be releasing in 2021. Our team had the opportunity to hear and learn from inspirational keynote speakers – Victoria Arlen and Dr. Katia Campbell. To bond over the week, we had opportunities to participate in a virtual cocktail-making class, trivia, a yoga class, and a psychic experience. It was rewarding to be able to come together virtually to learn and plan for the year ahead as a team.
While taking Think Bigger virtual this past year was fun, we can't wait to see our team members together in person at Think Bigger 2022 in early February!
Diversity, Equity, & Inclusion
In response to the events of 2020 and the passion our team feels for creating a better world for all, 2021 also brought the creation of our Diversity, Equity, & Inclusion Taskforce. The DE&I Employee Taskforce has developed and implemented company-wide programming including events, education, and fundraisers. Through the taskforce interplay, the team has been able to stretch the idea of education and inclusion as a whole, exploring specifics through personal experience and background, instead of generalizations.
From March 8th-12th, we celebrated our inaugural Diversity Week. The theme for the week was based on the acronym P.O.W.E.R: perspective, opportunity, workplace, educate, and re-imagine the future. Our week started with a team discussion led by Josette "Jo" Ciceron, a social justice advocate and activist. She guided the conversation around topics such as personal bias, stereotypes, and getting comfortable with being uncomfortable. To help celebrate Diversity Week together, virtually, our team created a t-shirt to wear on the last day of the week. Through this t-shirt campaign, we were able to make a donation to Black & Brown Founders. This organization provides community, education, and access to Black and Latinx entrepreneurs, giving them the knowledge and assistance to launch and build tech businesses with modest resources.
Next Phase of a New Partnership
What better testament to the hard work and passion our team of industry veterans has poured into the business than to have been acquired? In May of 2021, we were able to announce that Perform[cb] had been acquired by Beringer Capital, a leading North American private equity fund specializing in the rapidly evolving media, marketing services, commerce, data, and technology sectors. In the first six months, this partnership has already allowed our team to bring further innovation and continuous momentum to the industry – we can't wait to see what we can do together in 2022! To read the full press release, click here. For more details, check out the interview our CEO, Erin Cigich, did with mThink earlier this year.
Best Place to Work
Perform[cb] was voted the #1 Best Place to Work in Sarasota-Manatee by the Sarasota Herald-Tribune. Why are we so excited about this award? Unlike the other local Best Places to Work awards, the Herald-Tribune is 100% employee survey-based, and they surveyed ALL of our domestic employees, regardless of whether they live in Sarasota or not. With more than 64% of our domestic-based team now located outside of the area, we feel that this really means that we're just a Best Place to Work "anywhere".
Technology & Innovation
Affiliate Management at Your Fingertips – Perform[cb] Partners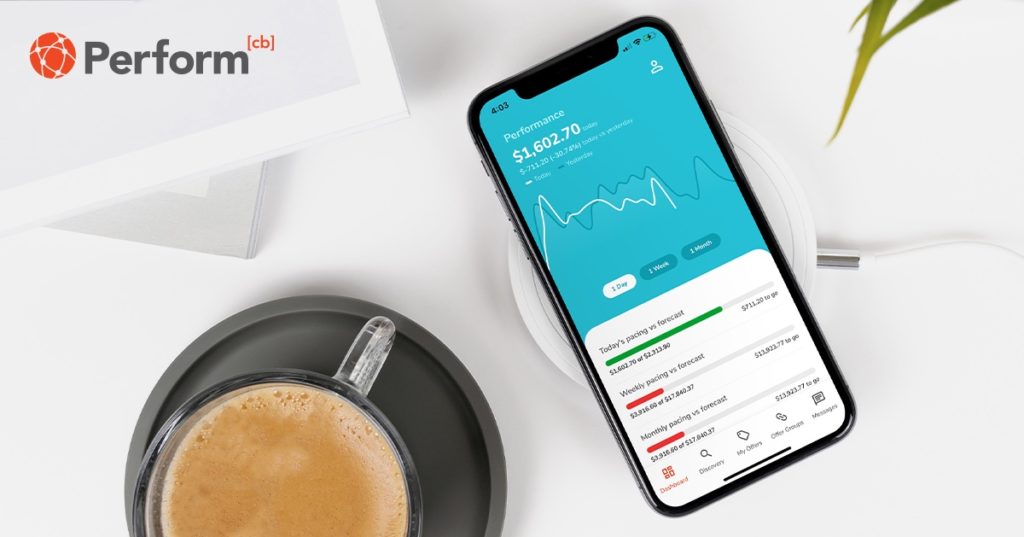 This year, we launched Perform[cb]'s mobile app for affiliate partners, Perform[cb] Partners. Available on iOS and Android, this brand new app allows users to access our patented technology from their mobile devices. This means that users can manage their business in real-time, automating and prioritizing existing offers, launching new offers, chatting live with their account manager, and more while on the go. The app mirrors the functionality of our desktop app with a dashboard that houses a personalized Optimization Score, feedback on how to improve their offer success, and an insights section. We love to surprise and delight our partners, so the app is also chock full of exclusive features like the ability to "bookmark" offers that they are interested in running in the future. Partners can chat directly with their account manager in the Perform[cb] Partners app which is integrated directly with Slack. And if that isn't enough, notifications can be customized so that alerts are sent only for the information that matters most.  
Prioritizing Marketer User Experience
Marketers need not fret, we also worked some of our tech magic for you in 2021 with our reimagined Marketer Dashboard in Perform[cb]'s platform. The platform got a refresh making it more efficient and customizable for streamlined campaign optimization. Upon logging into their account, users will see a brand new Activity Feed that gives them the ability to contact their account manager, review their account balance, and view recent updates to their current offers. With the addition of new analytics reporting, marketers can quickly get their eyes on reports for offers, links, and partners to gain further insight into traffic metrics and ultimately enhance optimization.
Marketers, if your Account Manager has been doing the heavy lifting for you, it's worth it to log in and take a spin through yourself to see these new innovations. Especially since, spoiler alert, we have some big plans for 2022 that will turn our platform into the ultimate tracking platform for ALL of your offers, regardless of where you run them (but of course, we think you should be running them all with us).
Staying Connected Across the World
Soon after the pandemic began in 2020, we made the decision that Perform[cb] would continue to be a flexible workplace with the option to work from anywhere including our Sarasota HQ, even after the pandemic ends (if it ever ends). This means that in 2021 we went from just 5 remote employees to 136, but this hasn't stopped us from staying connected! To keep in touch, we had many opportunities to participate in various events virtually and (safely) in person. In 2021, we hosted a virtual drag queen bingo and virtual escape rooms. The teams in Denver, Sarasota, and Bosnia also met up in person for park hangs, in-office breakfasts, and rooftop happy hours.
Holiday Cheer
Thanksgiving Cookie Decorating Contest
To kick off the holiday season, boxes filled with sugar cookies, icing, and sprinkles were sent to each team member for a virtual cookie decorating contest. The team decorated their cookies to compete for five different titles including Most Creative, Minimalist, and Most Festive. Each winner was awarded a $100 e-gift to a site of their choice. How's that for kicking off the holiday shopping season?
Holiday Wheel of Gifts
In December, Perform[cb] has a reputation for really going over the top for our team members. In past years we've had advent countdowns in our offices complete with fantastic gifts, festive treats, and tunes. This year was a bit different given we're more geographically spread out than ever, but that didn't stop us from treating our team to some festivities. We introduced the Holiday Wheel of Gifts through virtual raffle parties. Each employee was entered to win a variety of themed gift packages including travel, home renovation, and personal makeover. At the raffle, the team got to spin the virtual wheel of names and had fun watching each other win amazing prizes!
Holiday Parties
Our team members in Denver and Sarasota were able to safely have in-person holiday gatherings this year. We joined together to celebrate all of our accomplishments, eat delicious food (including mashed potatoes in martini glasses), and bond as a team before the new year.
Giving Back
Guardian Ad Litem
In past years we partnered with the local Guardian Ad Litem group, but this year we were excited to expand this opportunity to our entire US-based team! Guardian Ad Litem provided the names and wish lists for 60 children, and we were given a budget to spend per child. Broken into teams of 3-4, our folks happily shopped to check things off the lists. Nothing makes us happier than to know that we were able to help make the holiday wishes come true for these kiddos. Read more about the GAL Holiday Gifting event.
Girls Inc.
Another favorite organization of ours is Girls Inc. As a woman-led tech company with 52% of our staff being female, we love to support the women of Girls Inc. as they discover their individual and unique strengths. Once again, Perform[cb] partnered with Girls Inc. this November to help shop for holiday gifts (we really do like shopping for children). The team paired up at a local Target to shop from wishlists collected by Girls Inc. and had a blast making their holiday dreams come true.
Donuts for Doctors
We've been in a pandemic now for almost two years – hard to believe, we know! Our healthcare workers are exhausted, yet they never cease taking care of those of us in need. Some of our extended Perform[cb] family members are on the front lines, and we owe a debt of gratitude to them. We decided to show this gratitude by partnering with United Way and local favorite Five-O Donuts to surprise the staff of Sarasota Memorial Hospital with delicious donuts and coffee this fall. We hope that our small treat added a little sweetness (and caffeine, let's be honest about it) to their day!
Helping the Homeless and Supporting our Team
Always looking for more ways to embrace team members who are dealing with life's challenges (who isn't?) and to make our community a better place, we had additional initiatives that warmed our hearts. Perform[cb] matched donations made to the Pulmonary Fibrosis Foundation during Pulmonary Fibrosis Awareness Month in honor of a team member's mother who had passed away earlier in the year. We also partnered with Hippy Feet, an organization that provides employment to homeless youth by manufacturing and selling super-cool socks, including custom designs like our Perform[cb] themed sock – a pair of which was purchased by Perform[cb] and sent to every team member's home.
Launching Forward into 2022
Wow – that was a lot! We're pretty exhausted having recapped just a selection of the triumphs, challenges, and opportunities that 2021 presented for the Perform[cb] team. But, we're even more excited to launch our arrows into 2022 and can't wait to see what the year brings for our team, marketers, partners, and clients. Stay tuned for more platform feature launches, the tracking solution we hinted at above, our first in-person Think Bigger since 2020, and more giving back to our communities. To keep up with what we're doing in 2022, subscribe to our newsletter. Launch those arrows, y'all!