Perform[cb] named best company to work for for seventh year
Online performance advertising pioneer, Clickbooth, has been named a Best Company to Work for by Florida Trend. This marks Clickbooth's 7th straight year and 10th overall recognition for their investment and focus on company culture.
Erin Cigich, CEO at Clickbooth, says, "Every person's greatest limiting factor in life is time. We understand that, and we want you to have as much fun at work as you do outside of it. That doesn't mean there won't be challenges, but we're all in it together and focused on solutions. Our goal is to prove to our team and our clients through actions, rather than words, how much we care."
Further boosting their dedication to employees, Clickbooth will move into their brand new, custom designed office space with an open office floorplan in the fall. All executives, including the CEO, will sit together "on the main floor" promoting a culture of transparency and an open flow of information and ideas.
"The Best Companies find ways to make the workplace an easy place to be — at least one in five of this year's best companies has a game room or game table. Those companies understand the value of using games to build relationships among their employees, and also in promoting wellness. In addition, those gaming tables reflect another trend: Employers are investing in their office space," says Executive Editor Mark Howard.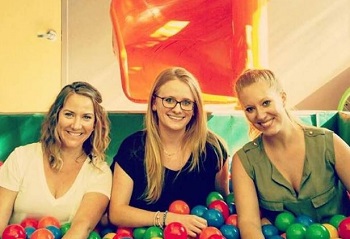 Long tenured Clickbooth Vice President of Media, Julie Martin says the culture is a driving force in the company's dominance of the competitive online advertising industry. "Understanding the importance of collaboration and effective communication is what has kept Clickbooth at the top of this ever-evolving industry. Working together as a team, and listening to each other's viewpoints, helps us maximize our clients' experience – resulting in higher performance," says Martin.
Additionally, Clickbooth offers flex hours and flex time, including paid time off for new parents. "Top companies provide excellent pay, health insurance, 401k plans, and other 'hard' benefits, but they also offer the leadership and communications that encourage employees to participate in the organization's overall success," says Florida Trend Publisher Andy Corty.

About Clickbooth.com, LLC
Clickbooth is a recognized online performance advertising leader and one-of-a-kind performance marketing exchange focused on Cost-Per-Action and Cost-Per-Click affiliate marketing.  Founded in 2002, the company specializes in generating consistent, quality customer acquisitions at high volumes through exclusive affiliate channels on native, mobile, social, email, contextual and search placements. Advertisers can access advanced targeting capabilities through the proprietary, patent-pending platform. The majority of the traffic is exclusive to Clickbooth, which is pioneering a programmatic approach to performance marketing through the use of machine learning and implementation of big data.
For more information, please visit www.clickbooth.com.

About Florida Trend
Florida Trend is an award-winning business magazine read by 250,000 senior business executives, civic leaders and government officials each month. Delivered via print, tablet, mobile and enewsletter, Florida Trend covers business news, executives, industry analysis, regional news round-ups and executive lifestyle.
For more information, visit www.FloridaTrend.com.
You May Also Like