AFFILIATE WORLD ASIA 2019: YOUR GUIDE TO EXPLORING BANGKOK
This December, Affiliate World Asia is back in Thailand's capital city, Bangkok! This magnificent city is known for amazing ancient temples, towering buildings and skyscrapers, amazing palaces, markets, and a world-renowned wide range of street foods. For those AWA attendees that might be spending a little extra time in Bangkok outside of the tradeshow, plan a day trip exploring Bangkok and check out these "Best Of Bangkok" sights, scenes, and experiences. Here is a great guide to help you make this your best trip to AWA Bangkok.
Where to Network:
Affiliate Block Party – Dec 4
At the close of day one on December 4th of Affiliate World Asia, the networking will continue into the night at the beautiful rooftop Lotus Garden of Centara Grand for the Affiliate Block Party. More than 2,000 affiliate and eCommerce marketers will gather to network in a more personal and relaxed setting. Turn up the night and get down to the beats of one of Bangkok's top DJs. Click here for more information.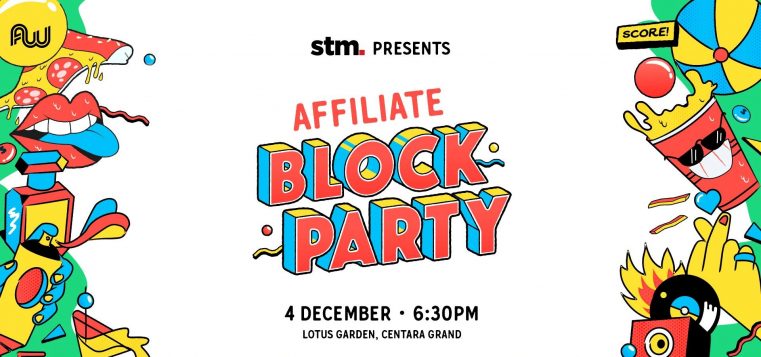 AD Buyers Bangkok Happy Hour – Dec 5
Ad Buyers Meet up is considered to be the most attended networking event at the Affiliate World conferences. Network the night away on December 5th at Level Club Bangkok. The venue will be filled to capacity, drinks will be flowing, and genius will be shared. Make sure to RSVP on the website for this event:

What To See:
Boat Trip along the Chao Phraya River
Some consider Bangkok, "The Venice of Asia ". What could be more relaxing than exploring Bangkok in a boat along the Chao Phraya River? With so many attractions, restaurants, and hotels right on the river, it is a convenient way to see much of the city, avoid traffic, and hop on and off at your leisure.
Chatuchak Weekend Market
Home to more than 15,000 different vendors spread out over 27 acres, you are sure to find plenty of trinkets, clothes or gifts to bring home from your trip to Bangkok. The Chatuchak Weekend Market is a perfect opportunity to try some local cuisine, meet locals and, maybe even try the pungent durian fruit. Foodies either love it or hate it – either way, you must try this controversial food while in Thailand.
Temple of the Emerald Buddha
Regarded as one of the most sacred religious site in Bangkok, the Temple of the Emerald Buddha, also known to locals as Wat Phra Kaew, is a must-see when exploring Bangkok. Built in the early 14th century and housed in the Grand Palace, this temple is a prominent political and religious symbol considered "the palladium of Thai society". Made entirely from solid jade and adorned in gold and diamonds, a sacred buddha sits elevated above visitors as a sign of respect. Historians have said that this buddha has been in Thailand for more than 233 years but has traveled extensively across Asia and kingdoms as it is believed to bring prosperity and good fortune to the country in which it resides.
Where to Eat:
Chinatown
Many big cities have their own Chinatown and Bangkok is no exception. With streets packed full of vendors, gold stores, Chinese pharmacies, and restaurants, you will want to bring your adventurous side around sunset time and walk down Yaowarat Road. Don't expect fancy tablecloths and a romantic setting, Chinatown is all about simple accommodations with out of this world food set on narrow bustling streets.
La Normandie
Take advantage of the upscale Bangkok food scene and enjoy lunch at this lavish 2-star Michelin rated modern French restaurant. La Normandie sits atop the Mandarian Hotel overlooking the Chao Phraya River, a perfect picturesque stop for viewing the city. Chef de Cuisine Arnaud Dunand Sauthier uses only the freshest ingredients from bio-dynamic producers in France and top-quality produce. Your culinary experience is sure to be magnifique!
Paste Thai Restaurant
While exploring Bangkok, if you are looking for an authentic Thai restaurant within walking distance to the Bangkok Convention Centre, give Paste a try! Paste was listed as one of Asia's 50 Best Restaurants for 2019 and considers itself to be heirloom Thai cuisine. Dishes are a beautiful combination of art and creativity. Reservations are required.
If you are interested to meet with any of our sales representatives while at Affiliate World Asia, please email sales@adperio.com.
You May Also Like