Perform[cb]'s New Platform Update Utilizes Extensive Offer Request Capabilities
Thanks to helpful feedback from our partners, and our never ending pursuit to improve our growing platform, Adperio is proud to present our newest 'Request an Offer' feature.
Request the Offers You Want
Always aiming to provide the most for our users, our latest update delivers an even broader array of offers on our platform. Our customers have become accustomed to our highly competitive offers across all major verticals. But if a user searches for a particular offer and the search yields zero results, we have a solution. They will now be presented with the option to request exactly what they are looking for. If a user already knows the offer they want is not on the platform, the Request an Offer page can also be accessed via the side toolbar under the bell icon.
You get the best of both worlds – the offers you want, now powered by Adperio's leading artificial intelligence (AI) algorithms. You also get the better payouts and payout terms you're accustomed to with Adperio, but now on the offers of your choice.
Request Offers with Ease
This update is available in your Adperio Leap account, and accessible by clicking 'Request an Offer' on your toolbar.
Once selected, you'll be brought to a page with seven form fields. Three fields are required, and the rest optional depending on how many offer details you have. Here, you will be able to specify the offer you're looking for, along with parameters such as geos, payout rates, conversion rates, etc.
Looking for more than just one offer? No need to submit the same form over and over. Simply select the 'Add Another Offer' option to generate an additional set of form fields. Users can submit as many offer requests as they want at one time.
Upon hitting submit, you'll receive a confirmation box thanking you for your submission. Remember another offer you'd like to submit? In this same confirmation box you'll have the option to submit an additional offer. Your account information, plus your offer requests, will be sent directly to your account manager. When the requested offer becomes available, you'll be notified by your account manager and will be able to see the offer in your account. This latest feature helps us, help you.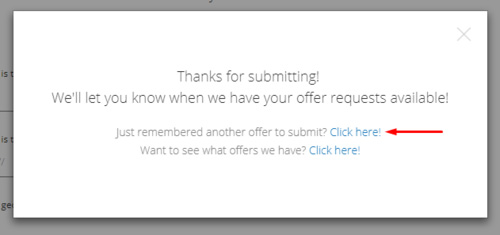 Existing customers can try out this new feature right away. Log in now to give it a try!
You May Also Like